On a site once named "one of the finest in the state" is a historic brick building situated on the most prominent intersection of town. The location of this building which was once called Coburns' Exchange (and later the Golden Hotel) was, by all accounts, the key landmark in Howard City, Michigan due to its proximity to the local train station.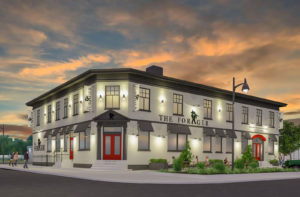 Almost 150 years later, many things have changed in this rural community, as some of the population has moved away either for work, education, or other opportunities. Our goal, with the help of others in the community, is to help rejuvenate and revitalize this landmark and this town by creating a 'buzz' with the opening of The Forager on this historic site.
To do this, three long-time friends plan to draw from this area's rich history and plentiful resources in the Great Lakes region to build a legacy this town will be proud of for years to come. The plan is already set to create an establishment with above-industry standards with regards to food quality and service for each and every customer who walks through our doors. With the help of our staff we hope to provide a unique experience for our patrons, while also providing a local institution our community and families can be proud of.